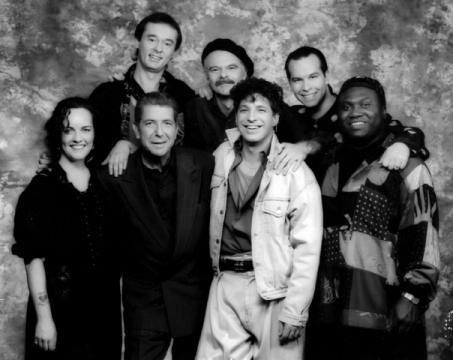 When I finished last nights Manteca concert at the Young Centre for Performing Arts, Lyne told me Leonard Cohen had passed away. Can one be down to earth and utterly elegant? Leonard could and it was not the suit, it was the man, his generosity of spirit, his kindness and his respect for others and his deep respect for words.
Here is a story I posted last year on my site.
U is for Ubiquitous. In 1993 my long-time friend, composer and collaborator Doug Wilde and I were co-leaders of a band called "The House". Named thusly because we were the house band on a national CBC weekly "variety show", as they were called in those days, hosted by Ralph Benmurgui. The producers had invited Leonard Cohen to play on the show to coincide with the release of his 9th studio album "The Future". He was not yet touring, had just finished the recording and was nervous about playing with a house band. He agreed to do the show but wanted to play with his pre-recorded album tracks, the kiss of death for a live TV show. The producers asked me if I would write Leonard and lobby him to perform with our band by sending some recordings of the group. Easily done. I had met Leonard in 1988 while interviewing him for a BBC/ABC/CBC music show I co-hosted called "Wired". Leonard is a master interview subject; present, measured, funny, philosophical. His vocabulary is striking, but not in a pretentious way; for example, he might call a tour, "an enterprise" or an abandoned idea would "overthrown", to get out of something, one might "extract " themselves…He speaks slowly, allowing himself time. to. consider. what. to. say. next*. It is a journalistic seduction – one starts to wait for the considered words of the poet with great anticipation. But unlike so many of the famous, his willingness to connect appears so genuine. During our interview, I truly believed there was no place he would rather be than talking to me.
I bragged to my journalist friends, 'oh man, wait until you hear the interview I did with Leonard, it was incredible, he was so charming, so engaged…no question this is the best interview I have ever heard him do".
"Really?" they would say, "he did a pretty great one on our show too".
" Yeah, right!"
And then I would hear the interview on their show and it would be the same interview, just as warm, just as revealing, just as exclusive feeling… but not exclusive at all, God damn it.
In my letter to Leonard that accompanied the recordings of the band, I reminded him of our previous meeting and in a couple days he got back to the producers and confirmed that he would be delighted to play with the house band and would be performing "The Future" and "Closing Time". We had copies of the recording and were told that Leonard would bring the charts with him.
The day before he arrived I convened the band for a rehearsal and we learned Leonard's tunes…in great detail and with a kind of live impact that the studio recording did not have. I told the band that when Leonard arrived they were to look his charts over and ask all kinds of questions, giving the impression they had never heard the tunes before…."when we get to the second chorus, does the pre-chorus repeat or do we just go right in? "Do you want the feel in the bridge to be more staccato"? "Do you want us to pick up the horn shots in the last chorus or play through?"
Leonard and his musical director were extremely gracious in answering our numerous queries and when all was set, Leonard turned to the band and said with his with his ever present elegance, "well, friend's, shall we give this a try?"
Our drummer, Charlie Cooley, shouted out the count with über confidence; "…click, click, in, two, three, fooooouuur"! The band landed on the downbeat like a train, after the first 8 bars Leonard turned to us with a huge smile on his face….it struck me that he had not heard this song played by a live band before and he was both relieved and filled with joy.
After we performed, Leonard sat with Ralph for the interview and could not stop breathlessly talking about the band, "wow, I really appreciate your band, really grateful…they're really great. Wow. " Since this adventure, I have run into Leonard a few times at the grocery store, but I have never told him of our cheatin' ways.
*When I teach public speaking I always show my students two speakers, Bill Clinton's convention speech in 2012 for Obama for plain spoken message and Leonard Cohen in interview for pace… I tell them that during their speech, a tiny version of me is going to sit on their left shoulder and whisper in their ear: STFD, STFD, STFD…slow, the, fuck, down, slow, the,fuck, down.